Day 12 NaHeBloPoMo:
My favorite health app / device / game is...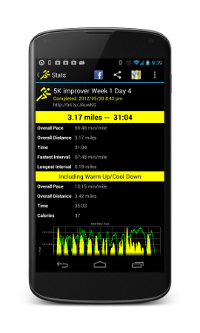 I have a couple! Prior to having this half marathon training, my favorite app was
RunDouble
and it will more than likely be a favorite in the future again because you can have it set by time or distance. The plans range from Couch-to-5K, 10K Start Plans, and Improver and Event Plans. In each of these plans are various options for distance or time. There are also some fun runs. My heart rate strap isn't bluetooth, but if it were, I could monitor my heart rate as well with this. There are a ton of other different settings and options that I've not fiddled with, but I really enjoyed it while doing the C25K! I played around with the timed and the distance. The only 2 things I was slightly unhappy with was the audio options (there might have been an update to it recently or a setting I am missing) as well as the screen rotation. I like to run to techno and despite having it on shuffle it played the same songs each run. It seemed to just repeat the same set each time it started, which got a little old. The screen only rotates one horizontal way, which if I have it on my arm means the phone is upside down from what I normally have it (I have bluetooth headphones, but I prefer plug in ones when I sweat a lot). It's something I can overlook, though.
Another favorite app that I recently started using and will definitely be using during this 0 to 13.1 training is the
A HIIT Interval Timer
. This little guy is super simple, though it LOOKS overwhelming at first. I can go in and do my own timed intervals! It's awesome! So I'll make a warm-up, cool-down, run and walk set and then combine them accordingly to make a workout for the day. I started using it on the 3 week training program and will now go in and set them up for the half marathon. It does just a nice little ticking countdown at about 3 seconds and then a tone for when you're supposed to start or stop whatever it is you're doing. It can probably do a lot more than what I use it for, but I dig it.
As for devices, I LOVE my heart
Polar Heart Rate Monitor
! I could not tell you what model it is, as I've had it for about 5 years. At the time I was much bigger and needed to get the men's version because the chest strap was bigger, but it's at it's smallest setting right now. Eventually I'd like to get a blue tooth one so I can have it monitored on my phone as well. But, I love this little guy. The strap doesn't bug me at all UNLESS I'm doing some sort of floor exercise. Then, it presses into my back, which tends to hurt. I don't mind the watch face on the wrist either, but again, if I'm doing something that requires the use of it, it gets obnoxious. I wish it had a longer range. I've used it during spinning classes where I will just place the watch on the handles and sometimes that is too far for it. Perhaps I just need to upgrade, but for now it does it's job! I like knowing where my heart rate falls and how many calories I'm burning per session.
Of course, none of those apps would happen without my smart phone. :)
--------------
Week 4, Day 22 Eating For Energy:
Have I mentioned how much I love things right now? Things are awesome :) I feel fantastic!
This morning I made some "green" juice (really, it's red) with vegetables that were getting ready to go bad. I had enough for 2 small canning jars plus a glass for myself. Oddly I've not drank the jars yet. My lunch was SO GOOD...just a big bowl of avocado, hemp, lemon, olive oil, cucumber, sunflower seeds, grape tomato, parsley, nutritional yeast, and lettuce. MAN was it good! I noticed later in the afternoon that I did NOT crave chocolate after the fact. That's always been a weird thing for me. Immediately after eating lunch I crave the chocolate sweets. I didn't...heck I didn't even NOTICE I didn't until a couple hours after. YAY!
I need to drink some juice...I'd rather it not sit around!
--------------
Week 0, Day 1 0 to 13.1:
I just got done putting all of workouts into my little planner that my boyfriend bought for me months ago. He knew I struggled with consistency when it came to workouts, so he thought he'd help me out by giving me a planner, some little gold star stickers for when I accomplished the workout, and then put a reminder in his own phone to check up on my progress the first of every month. Well...it's sadly not been used in several months. Not because I've not worked out (which I haven't lately), but because I had a hard time using the planner, my phone calendar, and a bazillion other things to organize my workouts...so I dropped the planner. But, I still LIKE the idea. I just need to use it ONLY for workouts rather than my every day life as I was trying to do before.
Today is a rest day (hah!)... I actually wanted to head out to walk this afternoon but realized I left my jacket at home and it's kind of cold out (50s!). I'm a wuss, so I will not go without proper gear. And speaking of, I need to get me some new shoes already...plus some cold gear to run in! I think I'll stop by and have the
Run On!
gang fit my feet for a proper shoe. Maybe Wed... kind of busy tonight.
--------------
Day 8 Meditation Challenge:
Have I mentioned that I wish these were less talking at the beginning and more meditation? I guess I appreciate the lesson and perhaps I should use that time to try to meditate, but I find it hard when he's talking. At least it'll get me used to it daily, right?
--------------
Day 12 NaNoWriMo:
I'll have a better update tomorrow...